Home
•
What's New
•
Catalog
•
About Rag Baby
•
Rag Baby Online Magazine
•
Country Joe's Place
•
E-mail Us
Time Flies By
Country Joe McDonald and Friends
GLO-042
This two-CD set spans Country Joe's entire career, with some songs going back 45 years and others brand new. Some are solo, and others feature full arrangements from a hand-picked group of musicians.
Tracks, lyrics, notes, audio samples, and more at countryjoe.com/timefliesby.

---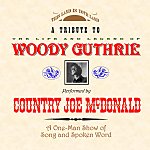 A Tribute to Woody Guthrie
Country Joe McDonald
RAG 1039
This two-disc set documents Country Joe's entire "Tribute to Woody Guthrie" show. It includes songs by Guthrie and others, readings from Guthrie's writings, and Joe's reminiscences of his own family. Recorded live at the Noe Valley Ministry, San Francisco, on May 12, 2007.
"McDonald channels this wry, compassionate man's wisdom without ever getting in the way, a refreshingly egoless performance by someone who remains as amazed by Guthrie as anyone." — Joel Selvin, San Francisco Chronicle, May 14, 2007
Disc 1
1. "This Land is Your Land" Woody Guthrie 2. Introduction — Country Joe 3. "Every Time His Songs are Sung" Barry Lee Marris 4. Root beer story from Bound for Glory by Woody Guthrie 5. "Talking Dust Bowl" Woody Guthrie 6. "Do Re Mi" Woody Guthrie 7. "Going Down the Road" Woody Guthrie 8. Car story from "Woody Sez" 9. "Let's Go Riding in My Car" Woody Guthrie 10. Cookies speak louder than words — letters by Malvina Reynolds and Woody Guthrie 11. Erotic writing — Woody Guthrie 12. "Woman at Home" Country Joe (music), Woody Guthrie (words)
Disc 2
1. "Capi/Commie" Joady Guthrie; Sayings by Woody Guthrie; "Old Paint the Horse with a Union Label" — author unknown 2. "Ladies Auxiliary" Woody Guthrie 3. "Union Maid" Woody Guthrie 4. About lynchings — Woody Guthrie 5. "Slip Knot"/"Vigilante Man" Woody Guthrie 6. "Pastures of Plenty" Woody Guthrie 7. "Roll On Columbia" Woody Guthrie 8. "New York City" Country Joe (music), Woody Guthrie (words) 9. "Tom Joad" Woody Guthrie 10. "Oklahoma Hills" Jerry Guthrie and Woody Guthrie 11. Oklahoma where it all began — Worden McDonald 12. "So Long It's Been Good to Know Ya" Woody Guthrie